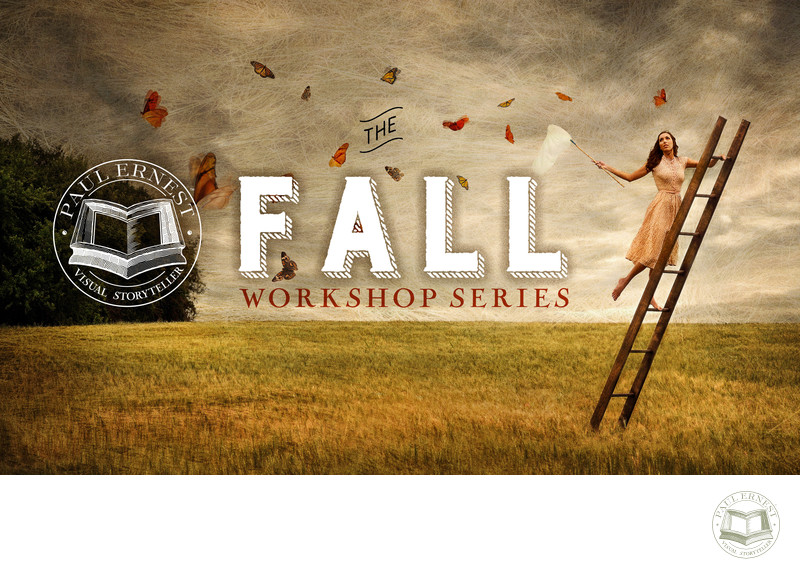 EDUCATION & WORKSHOPS
Join us in the beautiful Texas hill country in the heart of highland lakes on Oct 30, 31 and Nov 1! This workshop will take place in an awesome country Ranch home set on 55 acres. The 20 mile views from the 6,000 sq ft deck are breath taking. To create believable composites, it requires experience and skills. This workshop with Paul Ernest, gives each participant the techniques needed to create successful composites.
During our three days together, Paul will help you to transform concepts and ideas into images worthy of printing large and hanging in a prominent place.
We will start your learning the week before you arrive, via a webinar, where Paul will discuss how to create concepts and how to bring your visions to life. This will allow us to start shooting right away on Friday morning, to get the images you need to create a composite.
Paul will teach you how to assemble your images so they match your unique concept. You will master the tools used in compositing, including layers and masking, blend modes, adjustment layers, how to use textures and other tools.
Mornings and late afternoons are dedicated to shooting images. We will have models to work with during these sessions. After the morning shoot, Paul will work with you to teach you how to put together your concept. We will set some time aside in the afternoon for you to work on your individual images. This is the chance for you to reinforce your understanding of techniques that Paul has taught you. You will discover how they are applicable to your photography. You will learn, non-destructive editing processes. Then in the late afternoon we will head back out for more shooting time.
Join Paul to discover your enthusiasm, passion and unleash your potential in this creative endeavor! You'll see Paul's core techniques in action from start to finish.
Supplies
Camera, preferably with wide angle lens. Paul's go to lens is a 24-70
Laptop with preferably the latest version of Photoshop CC
Your best mood!
Required Skills
In Photoshop you must be able to work with layers, layer masks and adjustment layers. This workshop requires intermediate Photoshop skills
Schedule
(subject to change dependent upon conditions)
FRIDAY
7:30 am -10:30 am
We will begin in the field shooting images for a concept.
10:30 am - 4:00 pm
We will come inside to begin creating our concept.
4:00 pm - 6:30 pm
Back out to shoot and create more images.
SATURDAY
7:30 am - 10:00 am
This morning we will shoot a different concept.
11:00 am - 4:00 pm
We head back in to continue to learn putting our composites together.
4:00 pm - 6:00 pm
Bback out for shooting.
SUNDAY
8:00 am
Today we will finish your image so that it is ready print and hang it on your wall.
Experience Options
Choose your experience. Click here to register for one of these workshops
VIP Experience - $1825
You will have your own bed in a beautiful Ranch home. The stars shine so brightly from this location you will want to sit on the deck and watch the stars and deer roam nearby.
3 nights accommodations (Thursday, Friday, Saturday)
Breakfast all three days
Lunch all three days
Freedom to explore the property and shoot at night, before and after classes.
Swag Bag
Limited to 5 people
Purchase by Sept 25 the cost is only $1,625
Workshop Only - $1185
Workshop
Lunch (3 days)
Purchase by Sept 25 and the price is only $975.
Marble Falls is nearby for lodging. (10 miles away).